Milling robot introduction
Milling Robot also named as Robotic Milling, can perform the exact cuts and precise movements needed to produce the highest quality parts. Automated robot milling systems can have flexible tooling designed to cater to specific material removal.
Milling robot photo show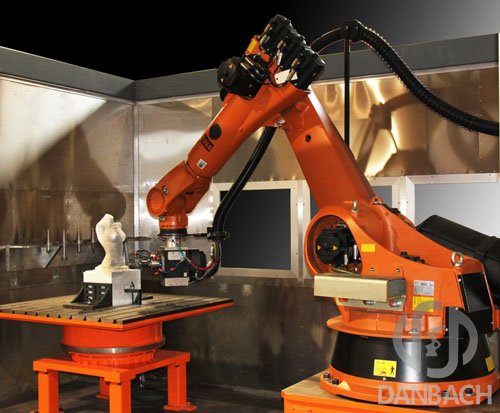 Robot Milling Advantages
1, save money: automated production line significantly reduces the high costs experienced technicians; polished highly consistent quality, reduce product failure rate.
2, high efficiency: Compared with the artificial production efficiency greatly improved; long continuous stable process.
3, product quality excellent: highly consistent product quality.
4, to improve the working environment: Closed metal robot workplace noise and dust will be isolated from the outside, to reduce human exposure to harsh environmental hazards.
5, physical security: the workers handling dangerous accidents caused by the processing device to zero.
Automated robot milling systems
Milling industrial robots will combine into a single robot grinding systems or complete robotic grinding equipment, combined with the transmission line and the corresponding jig grinding technology research and development into a complete process automation production lines, non-standard parts can efficiently complete automated grinding operation processes.
Milling robot automation factory
IKV professional polishing Industrial robot equipment suppliers, to provide you with professional non-standard pieces of polished solutions to help you solve the problem of automation grinding, boosting productivity gains. Learn more about grinding robot price, performance, you can consult the hotline: 0791-88121058
Milling robot Parameter
Repositioning Accuracy(mm)
Industrial robot manufacturers description
Nanchang DBH Co., Ltd. is a leading robot robotic tech enterprises, industrial robots unique technology as the core, independent research and development, specializing in the provision of industrial robotic automation solutions. Providing industrial robot apparatus comprising: a welding robot, palletizing robots, painting robots, handling robots, assembly robots, robot polishing, polishing robots, loading and unloading robots.